Introduction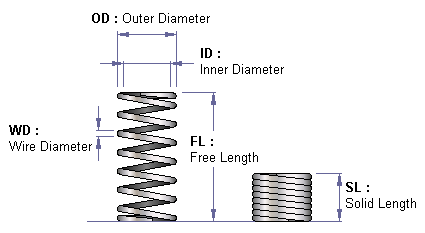 Springs are used in combination with push pins or screws to mechanically attach a heat sink and apply a specific load on the thermal interface material.
The following springs are available and can be used to arrive at a target load based on design variables such as board thickness, chip height, and contact area size.
If the available spring selections do not meet with your requirement, please contact Alpha's sales team for further support.
For more details of heat sink attachment, please visit our web page Heat Sink Attachment.
Standard Spring Items
Code No
OD
(mm)
WD
(mm)
ID
(mm)
FL
(mm)
SL
(mm)
Spring Rate
N/mm [ kgf/mm ]
Material
Surface Finish
S001YJ03

4.6
0.45
3.7
7.9
2.7
1.92 [ 0.196 ]
SWP-A
Trivalent Chromate
S001YJ1B

4.6
0.45
3.7
11.2
3.4
1.35 [ 0.138 ]
SWP-A
Trivalent Chromate
S001YJ3N

4.6
0.45
3.7
11.2
3.4
1.10 [ 0.11 ]
SUS304-WPB
None
S001YJ04

4.6
0.55
3.5
9.7
3.9
3.49 [ 0.355 ]
SWP-A
Trivalent Chromate
S001YJ12

4.7
0.50
3.7
11.1
3.5
1.83 [ 0.187 ]
SWP-A
Trivalent Chromate
S001YJ1C

4.7
0.50
3.7
11.8
4.3
1.27 [ 0.129 ]
SWP-A
Trivalent Chromate
S001YJ1D

4.8
0.55
3.7
6.4
2.9
5.19 [ 0.529 ]
SWP-A
Trivalent Chromate
S001YJ0B

4.8
0.60
3.6
12.7
4.8
3.41 [ 0.348 ]
SWP-A
Trivalent Chromate
S001YJ0G

5.2
0.65
3.9
7.8
3.9
6.16 [ 0.628 ]
SWP-A
Trivalent Chromate
S001YJ0J

5.3
0.45
4.4
11.3
3.0
1.00 [ 0.102 ]
SWP-A
Trivalent Chromate
S001YJ0T

5.3
0.55
4.2
14.3
5.7
1.59 [ 0.162 ]
SWP-A
Trivalent Chromate
S001YJ0R

5.3
0.55
4.2
19.1
5.7
1.02 [ 0.104 ]
SUS304-WPB
None
S001YJ0A

5.3
0.65
4.0
6.4
3.5
7.69 [ 0.784 ]
SWP-A
Trivalent Chromate
S001YJ07

5.3
0.65
4.0
11.2
4.9
3.85 [ 0.393 ]
SWP-A
Trivalent Chromate
S001YJ0Q

5.4
0.55
4.3
17.5
5.2
1.10 [ 0.112 ]
SUS304-WPB
None
S001YJ0S

5.4
0.65
4.1
15.8
6.2
2.28 [ 0.232 ]
SUS304-WPB
None
S001YJ3E

5.6
0.60
4.4
5.0
2.4
5.05 [ 0.510 ]
SWP-A
Trivalent Chromate
S001YJ02

5.7
0.70
4.3
14.0
5.6
3.74 [ 0.381 ]
SWP-A
Trivalent Chromate
S001YJ2R

5.9
0.70
4.5
8.0
3.6
5.58 [ 0.57 ]
SWP-A
Trivalent Chromate
S001YJ2S

6.0
0.80
4.4
8.0
4.2
9.53 [ 0.97 ]
SWP-A
Trivalent Chromate
S001YJ09

6.0
0.50
5.0
10.0
3.3
0.92 [ 0.094 ]
SUS304-WPB
None
S001YJ1E

6.0
0.80
4.4
9.7
4.0
9.47 [ 0.966 ]
SWP-A
Trivalent Chromate
S001YJ05

6.0
1.00
4.0
12.7
7.5
14.86 [ 1.515 ]
SWP-A
Trivalent Chromate
S001YJ0W

6.1
0.75
4.6
11.2
5.3
5.04 [ 0.514 ]
SWP-A
Trivalent Chromate
S001YJ0X

6.1
0.75
4.6
12.7
5.9
4.24 [ 0.432 ]
SWP-A
Trivalent Chromate
S001YJ0D

6.1
0.80
4.5
7.9
3.5
11.92 [ 1.215 ]
SWP-A
Trivalent Chromate
S001YJ08

6.1
0.80
4.5
11.2
4.5
7.66 [ 0.781 ]
SWP-A
Trivalent Chromate
S001YJ1F

6.1
0.90
4.3
7.9
5.3
15.78 [ 1.609 ]
SWP-A
Trivalent Chromate
S001YJ1G

6.1
0.90
4.3
19.1
9.5
5.35 [ 0.546 ]
SWP-A
Trivalent Chromate
S001YJ06

6.2
0.65
4.9
11.2
3.6
3.49 [ 0.356 ]
SWP-A
Trivalent Chromate
S001YJ2T

6.5
1.00
4.5
11.3
6.5
13.02 [ 1.327 ]
SWP-A
Trivalent Chromate
Related Information
Push Pin
Attachment Clips, etc ...
Introduction for custom heat sink