CS

Series

for Chipset Cooler

Description

High-performance passive chipset heat sinks.
Designed for applications with relatively low airflow.
Z-shaped clip attachment. Four different clip layouts available.
Model Name
Explanation for Model Name
:
CS40 - 50B
-
ZC1
-
G
| | |
| --- | --- |
| Heat Sink Model Name | CS40-50B (Base size 40mm square) or CS45-50B (45mm square) |
| Z-Shaped Clip Type | Check anchor pitch dimensions to choose the suitable Z-clip |
| Optional for Thermal Grease | Choose "-G" for Thermal Grease YG6260-5 |
About Z-shaped clip
If the anchors (top left photo) are installed on the board, Z-shaped clips (lower left photo) can be used for heatsink attachment.
The anchor pitch dimensions will vary for each board, so please review the following in order to choose the appropriate Z-shaped clip. The Z-shaped clip is an option.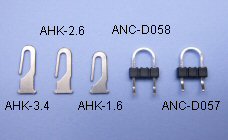 We offer two basic types of Anchors:
Solderless Anchor ANC-1.6, ANC-2.6 & ANC-3.4
Snaps into PCB slot from backside of board
Solder Anchor ANC-D057 & ANC-D058
Soldered onto component side of PCB
Model Name
PCB thickness (mm)
Drawing

Notes
AHK-1.6
1.6
DXF file (20KB)
PDF file (41KB)

No soldering, Easy attachment
Stronger Pullout Strength
Requires oblong slot in PCB
Inexpensive

AHK-2.6
2.6
DXF file (20KB)
PDF file (41KB)
AHK-3.4
3.4
DXF file (20KB)
PDF file (41KB)
ANC-D057
1.6
PDF file (18KB)

Solder attachment
Requires holes in PCB

ANC-D058
2.54 - 2.794
PDF file (18KB)
Clip load for the heat source can be calculated by the following graph. Please note this data is just for reference. Unknown dimensions and tolerances can sifnificnatly affect the load on the heat source.
1st, Calculate X value of the below graph based on formula which is at the bottom of graph.
2nd, Y value (Clip load) can be found from the intersection of "X value" and "Z-clips performance line".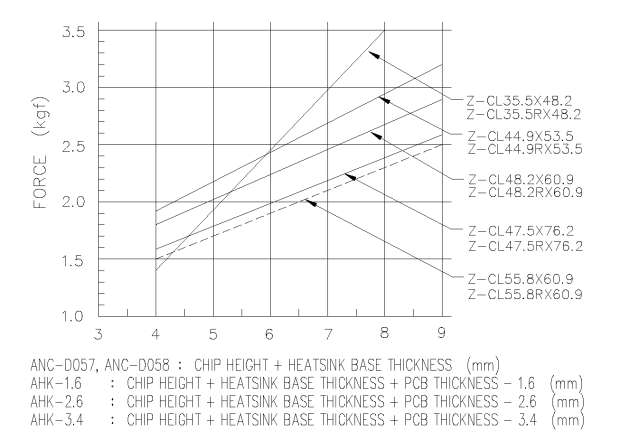 Related Information
Heat Sink Attachment - Z shaped Clip