Announcement of 2.50mm diameter Push Pins and Heat Sinks
Issue Date: 2019/04/15
Revised Date: 2019/06/14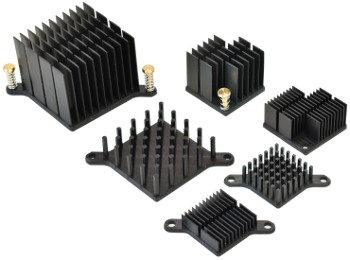 Alpha has expanded its wide range of off-the-shelf products to meet customer requirements.
Alpha has added a new series of push pins, designed for use with a 2.50mm hole in the PCB. The smaller hole size will take up less PCB real estate, reducing issues related to PCB routing and conflicts. Alpha has also added a new series of heat sinks that will utilize these 2.50mm push pins for attachment.
The new push pins will be available in 6 different lengths. The appropriate attachment force/pressure can be generated through push pin/spring selection. Selection will depend on PCB thickness, chip height, package size, etc.. The simple installation process will be the same as the existing pushpins.
We standardized 2 types of heatsinks, the LPD and UB series for attachment with these 2.5mm pins. The LPD series is suitable for low airflow and natural convection applications, and the UB series is designed for forced convection only. Please refer to the following for additional details and specifications.
New Push Pins:
New Push Pin attached Heat Sinks with Attachment Tab:
Model name
PCB Hole Dia. (mm)
Base size (mm)
Height (mm)
Hole pitch (mm)
LPDR19, LPDL19, UBL19, UBR19
2.50
19 x 19
8 - 20
22 x 22
LPDL25, LPDR25
UBL25, UBR25, NR25, SR25
25 x 25
8 - 25
30 x 30
LPDL30, LPDR30
30 x 30
8 - 35
35 x 35
UBL30, UBR30, NR30, SR30
8 - 25
LPDL35, LPDR35
35 x 35
8 - 35
40 x 40
UBL35, UBR35, NR35, SR35
8 - 25
LPDL40, LPDR40
40 x 40
8 - 35
45 x 45
UBL40, UBR40, NR40, SR40
8 - 25
LPDL45, LPDR45
45 x 45
8 - 35
50 x 50
UBL45, UBR45, NR45
8 - 25
New Push Pin attached Heat Sinks (No Attachment Tab):
Shipments began on Apr 15th of 2019.